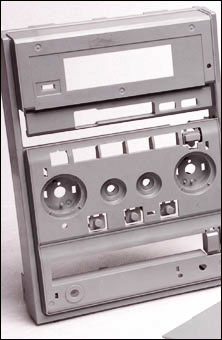 Pre Coloured Compounds
SpectroblendTM precoloured unfilled resins is one of our company specialty. We have the flexibility to colour most of the commercially available thermoplastic such as ABS , HIPS, PC, NYLON, PC/ ABS etc. We have one of the widest range of premium high quality pigments selection which creates an attractive full spectrum of colour selection for our customers aesthetic requirement. Among some of the choices are opaque, translucent, metallic, silver, marble and glow in the dark high end selection.
Most of our colour specialists have more than 15 years experience in the colour matching industries which imply a fast and accurate colour matching for today's dynamic product design. In addition, we have over thousands of successfully matched library of colours for our customer to choose from. All matching is done by human experience as well as our advanced colour matching spectrophotometer and advanced software.
SpectroblendTM is widely used in electronic (visual, audio housing) and electrical housing (low voltage isolator, switches) business machines( printers, fax machines, scanners), high end office furniture, automotive cabin fittings and much more.